Video Content Creation
The Rich brothers for habitat
March 31, 2020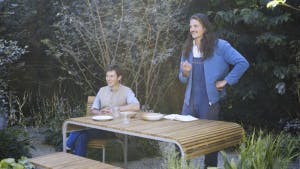 Get your garden Summer ready and take a look at the behind the scenes video I did with The Rich Brothers for Habitat. It was a really fun shoot day and both Dave, Rich and the team Habitat UK were great to work with!
The RHS Chelsea Flower Show might be cancelled this year but you can still inject a sophisticated touch into your garden with the new The Rich Brothers for Habitat garden furniture collection. The landscape gardeners, and two times Chelsea gold medal winners, have worked closely with Habitat's design team to create a functional range perfect for every kind of outdoor space.
Find out more about the new collection here: habitat.co.uk/inspiration/therichbrothers
Filming during a photo shoot can sometimes be tricky with the photographer and cameraperson trying not to tread on each others toes. Last September however we not only got lucky with the weather but it was all in all a smooth shoot day. It's always nice to work with a passionate team and the talent being great fun to be around too, really transpires in the end product – whether on video or in the imagery.
---