Female Focus
Female Focus Interview: Sophie Williams
June 01, 2020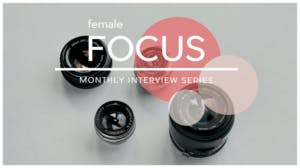 Starting off the Female Focus interview series is Producer and video production company owner Sophie Williams. Together with her husband Nick she runs Feral Films in Manchester, takes care of the pre-production planning for all of Feral's shoots and is the company's financial genius. We met up for a virtual coffee and chatted all things video production.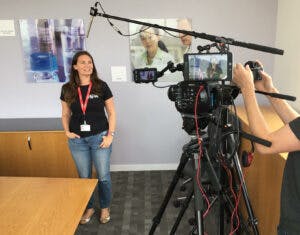 How did you get into video production – have you always had an interest in it?
I fell into it by accident. I had a background in project management for an IT company and had done a few different roles in IT. I ran a small business myself whilst my kids were little then, just over 6 years ago, Nick was working at a big animation studio in Manchester and decided he wanted to set up Feral. He did most things himself to start with, I just helped with the admin and tax returns etc. Then, as Feral grew, I started pulling away from my business to spend more time helping Nick. Now, I work full time for Feral, producing many of the projects, interviewing people/customers and arranging the shoots. I also manage the animation and voice over projects for Feral. We are now a team of five full time members, we also have a group of around 12 freelance crew that we use regularly for bigger projects.
You own a video production company, Feral Films, together with your husband – what are the challenges but also advantages of working together so closely?
This is a great question and one we get asked a lot, we actually work together really well, I do most of the planning and production management and Nick does a lot of the technical stuff, filming and editing but also writing the creative treatments for projects. We have 2 full-time editors and videographers too so on a lot of shoots where there are 2 crew needed, it means we can be in two places at once and handle the post production for multiple projects. The challenge is sometimes that we don't fully switch off from work and will often spend our free time planning or talking about work. This isn't a big problem for us though because we both really love what we do.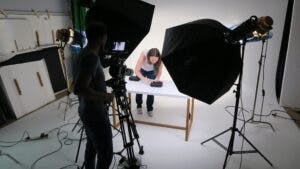 What are your favourite types of projects to work on and why?
One of the great parts of our job is that every day is totally different. On a shoot, we might be in a studio, in an office, at an event, indoors or outdoors and, a lot of the time, in a different country. The shoots themselves are all different too, sometimes we have a team of just 2, other times as many as 12. Nick loves to film outside, at events like the RHS Flower shows in summer or on a racetrack or in a crane.
I love to film people, interviewing is my favourite thing to do so, any project where we can interview attendees at an event or customers on their experience with a particular brand or product. I also really love filming in Labs and hospitals.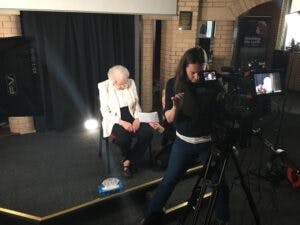 What is it like to be a woman in the production industry – are there advantages / disadvantages to being a female producer or does it not make a difference to you personally?
I think I am really lucky that we have a really great team who we have worked with for years, both full time crew and freelancers. Being a woman in the industry has never been a disadvantage, I think its great to have a mix of both men and women on a shoot and in the office too 🙂
Is it more important to be liked or respected?
For me, its more important to be liked. The respect comes from working on projects with people and showing them what you can do. We are lucky to have great clients, most of which turn into friends and we love working with them.
What advice would you give other women who would like to start their own business?
Organisation is key. You have to stick to your promises and deliver what you have said you will, on time, every time and to a great quality. Also, check in regularly, with you colleagues and customers to make sure everyone has what they need.
What are you currently working on (if you can share)?
We have a few things going on now, during lockdown, the first couple of weeks was a little odd but now we are doing a mix of editing previously shot footage which can be repurposed for clients who want to send comms out, we are receiving self shot footage to edit for customers and are also working on animations and infographics. Once we are out of lockdown, we have some bookings already to shoot events, customer testimonials and talking heads and also a shoot where we need to blow something up with fire and explosions!!
How do you unwind?
Being outside makes me happy, we walk the dog through the woods (whilst talking about work) most mornings before work and I love my garden at the moment whilst we cant go out for dinner or to see friends. I am growing lots of veggies and herbs both outside and on windowsill at the moment and really enjoying it.
What's your favourite film and why?
Favourite series of all time is Game of Thrones, I know I am not on my own there! Not sure if I have a favourite film, I love to watch classic Disney films with the kids and the Grinch at Christmas and we all watch Sean of the Dead far more often than we should (the kids are old enough to watch it with us now)
The three things you would take to a desert island (or you missed the most during lockdown)?
This is really soppy but I would take Nick (sorry) The things I have missed the most during lockdown have been Family, we have 2 new babies in the family and I have missed seeing them, really good coffee and restaurants.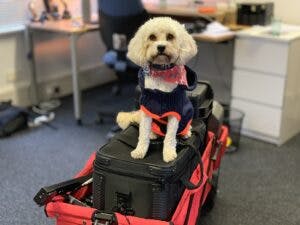 ---